Corvallis Community Resources
Links to information about favorite community resources in Corvallis, Oregon. As you can see, this is a work in progress. Please
contact us
to suggest other resources.
Musical Groups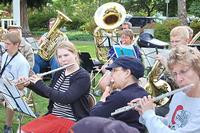 Come play music and sing with other members of the community! These Corvallis area music groups welcome new members.
Corvallis Community Band
- This musical organization is open to any one who plays a band instrument with at least high school level ability. The Band's purpose is two-fold: to provide concerts for the enjoyment of the community and to provide a friendly, high-quality musical organization for people who want to continue playing music with other like-minded people. Band members' ages range from 15 to over 80.
Corvallis New Horizons Band
- Concert band composed of adults who love to play music. It includes adult beginners (even those who can not read music) and people who played in school but have not played for many years. A great opportunity to learn to play and/or improve your musicianship.
Share, Trade, Barter
Albany-Corvallis Free Cafe
- Online group for friendly chat, public service announcements, questions, recommendations, community event notices. Affiliated with the Albany-Corvallis ReUseIt group. Hosted by Yahoo so you can receive messages as emails or read online.
Albany-Corvallis ReUseIt
- Online group whose goal is to prevent usable items from ending up in the local landfill by re-gifting those items to other members who can put them to good use. Covers the Albany-Corvallis area and surrounding local communities. Giveaways only, no sale, trade or barter. Hosted by Yahoo so you can receive messages as emails or read online. (Formerly affiliated with FreeCycle.)